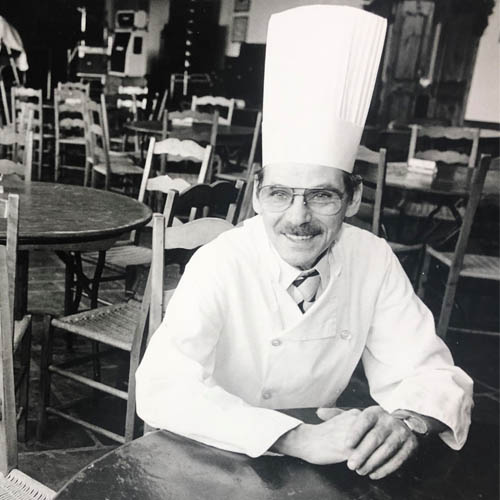 Memory
I want to share with you this delicious, mouth-watering recipe that I often cooked for special occasions when I was a chef.


Chef Maurice Cécilien's Veal Sauté
This recipe should always be made with love!
Interesting facts
This dish can be served on a bed of egg noodles.
Ingredients
| | Ingredients | Quantitites |
| --- | --- | --- |
| | olive oil | 60 ml (1/4 cup) |
| | onion, diced | 3 |
| | large carrots, diced | 4 |
| | celery stalks, chopped | 4 |
| | cloves of garlic, minced | 2 |
| | veal cheeks, cubed | 2.5 kg (4.4. lbs) |
| | chicken stock, hot | 1.25 litres (5 cups) |
| | salt and pepper | To taste |
| | fresh parsley, chopped | To taste |
Directions
Preheat the oven to 350 °F (180 °C).
In a large heavy-bottom pan or casserole dish, brown the meat in the olive oil over medium-high heat. Set aside on a plate.
In the same pot, cook the onion, carrots, celery and garlic until the onion is translucent and tender.
Return the meat to the pan and pour in enough hot chicken stock to cover the meat and vegetables. Add additional stock, if necessary. Add salt and pepper.
Bake, uncovered, for 2 to 3 hours, stirring every 30 minutes to make sure that nothing sticks to the bottom.
Remove the pan from the oven to check that the veal is tender. If necessary, thicken the sauce by adding a little cornstarch. Adjust the seasoning.
Serve with mashed potatoes and a generous amount of fresh parsley.
"
"
Mr. Maurice is a kind and generous man who loves to laugh and entertain others with his jokes. He is a sensitive and endearing man. The first thing you notice about him are his beautiful bright blue eyes. Mr. Maurice used to work in the restaurant industry as a chef. In this picture he is standing in front of the Labatt Brewery's Salle Maisonneuve while he was chef for special occasions.